Molissa Fenley (1954) founded Molissa Fenley and Company in 1977 and has since created over 85 dance works during her continuing career.  She grew up in Ibadan, Nigeria traveling there with her family in 1961, completing all of her early education there in International Schools and her last two years of high school in Spain. She returned to the US in 1971 to study dance at Mills College in Oakland, California. Upon graduation in 1975, she moved to New York.
With her company, Molissa Fenley and Company, and as a soloist working in collaboration with visual artists and composers, she has performed throughout the United States, Canada, South America, Europe, Australia, India, Indonesia, Japan, Korea, Singapore, Taiwan and Hong Kong.  Her work has been commissioned by the American Dance Festival, the Brooklyn Academy of Music's Next Wave Festival, the Dia Art Foundation, Jacob's Pillow, the Joyce Theater, The Kitchen, Lincoln Center, the New National Theater of Tokyo, The National Institute of Performing Arts in Seoul, and by Dance Theater Workshop/New York Live Arts. Both Cenotaph and State of Darkness were awarded a Bessie for Choreography in 1985 and 1988, respectively.

Molissa has also created many works on ballet and contemporary dance companies, most recently for Barnard College Columbia University, Oakland Ballet, Pacific Northwest Ballet, Robert Moses' Kin and the Seattle Dance Project. She is a Guggenheim Fellow, a Fellow of the American Academy in Rome, has enjoyed residencies at the Baryshnikov Art Center, the Bogliasco Foundation in Genoa, Italy, Djerassi, TopazArts and Yaddo, is the recipient of two Asian Cultural Council residencies in Japan and a Master Artist of the Atlantic Center for the Arts. Molissa is the Danforth Professor of Dance at Mills College, in residence in the spring semesters, and often teaches choreographic workshops at other universities, most recently at Barnard College Columbia University, Hunter College and the Experimental Theater Lab of New York University. 

National performances by the company have taken place at the Joyce Theater, Summerstage, The Kitchen, City Center, Alice Tully Hall, Lincoln Center Out-of-Doors, Jacob's Pillow, the Anderson Collection at Stanford University, and at many outdoor venues.

Seagull Press recently published Rhythm Field: The Dance of Molissa Fenley with essays by Molissa and her colleagues including Peter Boal, Rande Brown, Bob Holman, Bill T. Jones, David Moodey, Richard Move, Ann Murphy, Tere O'Connor, Elizabeth Streb and Paz Tanjuaquio,  with foreword by Philip Glass and epilogue by Stephen Greco and including archival photographs. Molissa, with company members Christiana Axelsen and Rebecca Chaleff, has just completed Water Table, an evening length work comprised of eight parts.  Recent performances included a season at New York Live Arts, June 14-18, 2016.



Christiana Axelsen
Christiana Axelsen has been dancing with Molissa Fenley since 2013. She assists Molissa in reconstructing major repertory works and has served as a rehearsal director setting Molissa's work on Oakland Ballet, Repertory Dance Theater in Salt Lake City and Barnard/Columbia. She currently dances for Christopher Williams and Courtney Kantz and has had the pleasure to work with Pam Tanowitz, Beth Gill, Michou Szabo, zoe|juniper, Dai Jian, Anne Zuerner, Mana Kawamura, Dylan Crossman and Korhan Basaran among others. She graduated Phi Beta Kappa and summa cum laude with a degree in dance and geology from Mount Holyoke College and is a graduate of the Merce Cunningham Professional Training Program where she performed alongside the Repertory Understudy Group.
Rebecca Chaleff
Rebecca Chaleff is a Ph.D. candidate in the department of Theater and Performance Studies at Stanford University. She has had the pleasure of performing with Pat Catterson, Douglas Dunn and Dancers, Margaret Jenkins Dance Company, and the Merce Cunningham Repertory Understudy Group, among others, and is also currently a member of GeraldCaselDance. Rebecca co-founded The Becky Collective with colleague Rebecca Ormiston in 2012 to create collaborative dance theater; most recently, they co-devised and co-directed fox mirror forest, a site-specific work set in Stanford's Frost Amphitheater. Since joining Molissa Fenley and Company in 2012, Rebecca has had the pleasure of reconstructing and originating roles in numerous works that span the breadth of Fenley's oeuvre. This spring she had the privilege of learning Fenley's iconic State of Darkness; she is now one of the four women who perform the dance.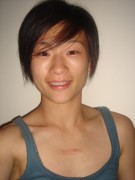 Peiling Kao
Peiling Kao, a native of Taipei, Taiwan, has been a freelance dancer for 16 years. After graduating from Taipei National University of the Arts in 1996 with a BFA in Dance, she worked as a full-time teacher at Cloud Gate Dance School in Taiwan. She has trained in ballet, contemporary, modern dance, Chinese Traditional Dance, Chinese Martial Art, improvisation, and contact improvisation. In 2007, Kao was awarded the Taiwan-England artists' residency, hosted by Independent Dance based at Siobhan Davis Studios in London. In 2010, she finished her MFA in Choreography and Performance at Mills College, receiving an E.L Wiegand Foundation Award for excellence in performance and choreography. In 2012, she was awarded an Izzie (Isadora Duncan Dance Award) for Outstanding Achievement in Performance for the collaborative work, Terra Incognita: Revisited. Peiling is presently an assistant professor at the University of Hawaii, Manoa. Prior to this recent appointment, she taught dance at Mills College, Austin Peay State University, and at the Chinese American International School as a visiting artist. Her work has been presented at Austin Peay State University, The Garage and the Luggage Store Gallery in SF, and Temescal Art Center and Mills College in Oakland. She has danced with Molissa Fenley and Company since 2010.
Paz Tanjuaquio
Paz Tanjuaquio is a choreographer, performer and artist based in NYC since 1990. As a dancer, she first performed with Molissa Fenley in 1997 in the solo Sita at the Joyce Theater and has since had the pleasure of dancing in many of Fenley's group works. She received her MFA in Dance from NYU Tisch School of the Arts, and her BA in Visual Arts from University of California, San Diego. Awards for her own work in collaboration with composer/artist Todd Richmond include National Endowment for the Arts, American Dance Festival's International Screendance, Meet The Composer/Commissioning USA, among others. In 2000, the collaborators co-founded TOPAZ ARTS, Inc. in Woodside, NY, establishing a creative space for the performing and visual arts.
Alyssa Lee Wilmot
Alyssa Lee Wilmot, Assistant to Molissa Fenley, Former Company member began her studies with Molissa as a graudate student at Mills College. Alyssa received her BA in Philosophy, Dance and Political Science from The College of Wooster, and an MFA in Dance Choreography and Performance from Mills College. Alyssa holds numerous Pilates and fitness certifications, is the artistic director and choreographer for her dance and performance company, group A, and owns and operates The Movement Factory in Cleveland, Ohio. She has been a faculty member and a visiting artist at a variety of colleges, universities, and performance spaces, and has performed and had work presented nationally and internationally. Alyssa has served as Molissa Fenley's assistant since 2010 and performed with Molissa Fenley and Company intermittently from 2002-2011.